Inspired by
this previous Video Thing post
about panoramic video, here's my incredibly lo-fi DIY attempt.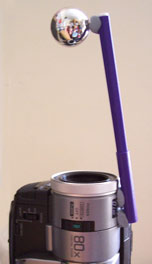 Old plastic Christmas tree bauble I found in the garden the other day
+
Felt tip pen
+
Blu Tak
=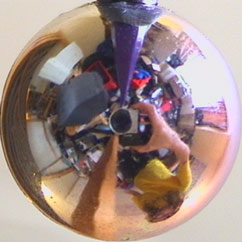 +
"Polar Coordinates" distortion in After Effects
=

1.1mb mpeg4 test clip!

EDIT - now also on Youtube! :)
It's decidedly fuzzy, and my demo isn't exactly spectacular as the camera was tethered to capture card and power supply, (battery dead & couldn't be bothered to find a blank tape) but works much better than I thought it would! Exciting results for such a half-baked attempt.
I'm going to build a more robust and high quality version (ie get a better mirror ball!) some time soon.
Oh, and by the time I took the above photo of my setup it had gone a bit wonkey, but I did have the ball lined up with the lens much better than it looks there!